This was an entry in the Highland Warriors "Summer 2012" Guild Mog Competition that took place between June and July 2012.
Skank set, nothing more can be said.
Transmog set #3
The Brief
So, uhm.. yeah. This set is something for you pink judges to laugh at.
When mogging came out, alot of people started to use revealing clothes for their own wee fantasy. Makes you look like a noob and a pervert. So this is perfect for my PvP set.
Can you imagine being killed by a perverted noob that looks like a Paladin Skank but is actually a Death Knight?! No, you probably haven't thought about it, but I find it fun in PvP.
I've noticed I get targeted more in PvP, probably people thinking "Hah, what a noob", which is actually beneficial since I'm hardly ever targeted and others die when i can survive longer.
So, here it is. Lolol.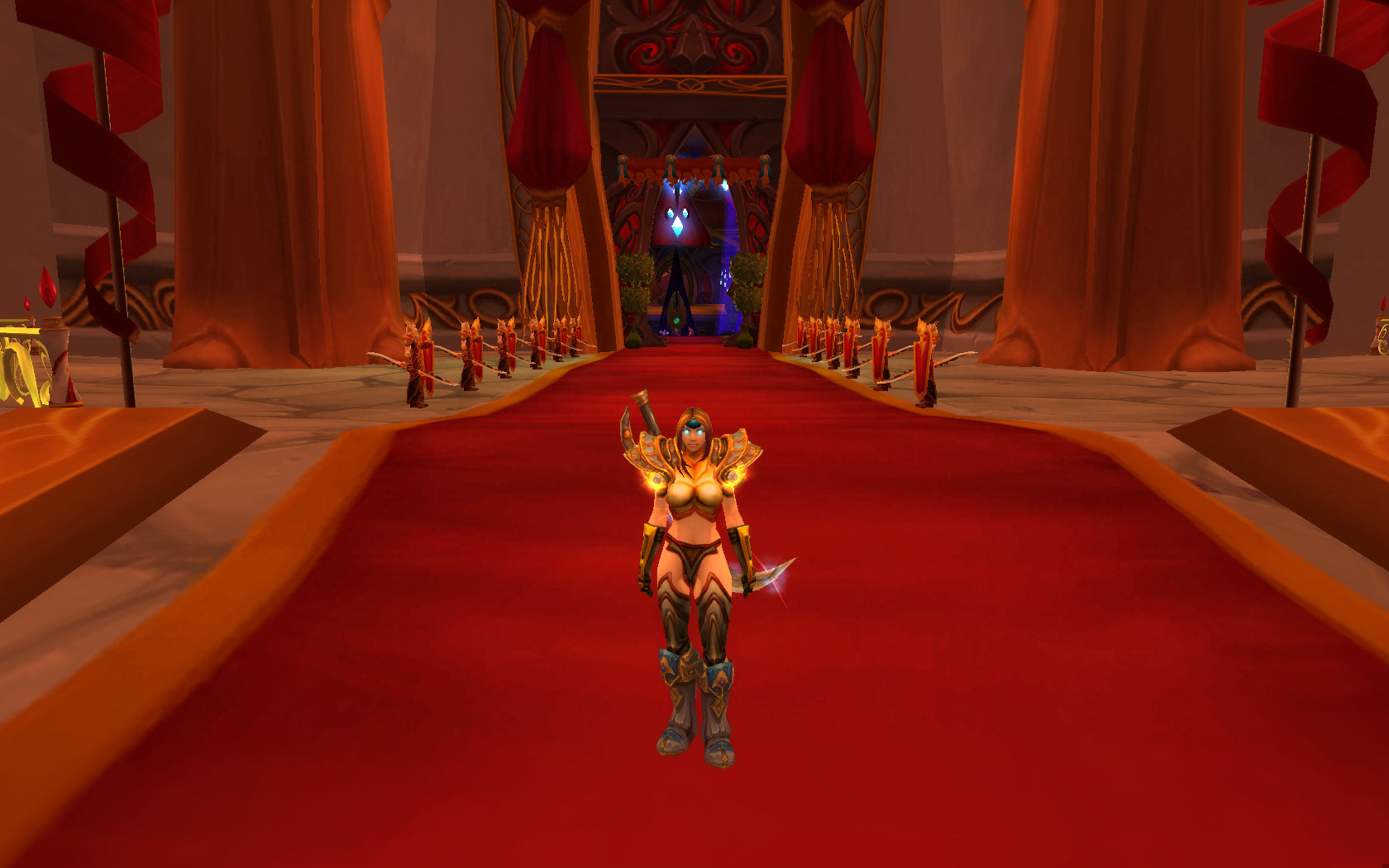 I don't think much more can / needs to be said on this. It wasn;t too difficult to obtain, most was AH loot. Shoulders took alot of farming but that's about it. This one's more for a filler set since my second set consumed so much of my time. Worth a few laughs or /palm's.
The Gear
Head
I wanted something that looked like I didn't have a helm, as switching the option to show helm off and on was beginning to be a pain, so this crown worked.
http://www.wowhead.com/item=10168
Shoulders
The shoulders cost a fair bit of gold and farming as the mats are quite demanding. 80 Motes of Air, for example. Was a good pass-time though and made some gold back from the extra bars I made
http://www.wowhead.com/item=32570
Chest
The chest had to be something skanky ofcourse, so i had a look through Mogit for somethign revealing and found this chest. Works a charm and look paladin-esque. Perfect.
http://www.wowhead.com/item=25008
Gloves
The gloves were something simply to match the chest. Had a look in my BS plans and found Felsteel gloves and used them.
http://www.wowhead.com/item=23517
Belt
I used the Death Knight starter belt again to act as an invisible belt to emphasize the utter skankiness of the legs. /shudder
http://www.wowhead.com/item=34651
Legs
The legs, i found on my druid while questing in Tanaris. They made me laugh in disgust so I used them \o/
http://www.wowhead.com/item=14840
Boots
These white disco style boots dropped in BWD HC during one of my runs. I took them to put on my PvP set which, at the time was just the DK set. Funky style though.
Upon searching the link on Wowhead, i realised the obsenely low drop rate on these. Pity on anyone farming them. 0.01% is pretty low...
http://www.wowhead.com/item=65080
Wepaon
I wanted something that fit with the set but looked unique at the same time. Had a browse through some weapons and found this 2 handed sword. It's a pretty rare looking model. Not seen many running about with it lately and so I quested Ashenvale to obtain it. Set was now complete, time to kill some unsuspecting Horde Paladins.
http://www.wowhead.com/item=56705