This was 2nd Place in the Highland Warriors "Summer 2012" Guild Mog Competition that took place between June and July 2012.
Burning Blood Set
Transmog Entry #2
The Brief
Ok, this was by far my toughest set to build. Alot of blood sweat and tears. Well, none really but it was still a pain!
When I first began raiding early in Cata, as a lonely pug wondering the streets of Orgrimmar (Yes I was once a Hordie), I never knew much about raiding but was informed on everything by a helpful Goblin. She showed me the vendors and the potential gear I could obtain, which at this stage was the t11 HC set. I instantly loved this set. I loved the way the red fire contradicted with the Death Knight's cold and dark being.
Obviously I wasn't even good enough to get the non HC set at the time, so it was merely a dream. Once mogging came out, I decided that this set was something I was going to get. Furthermore when Firelands came out, I really liked the shoulders from Ragnaros, so i decided to base this set around both of them.
This was the end result.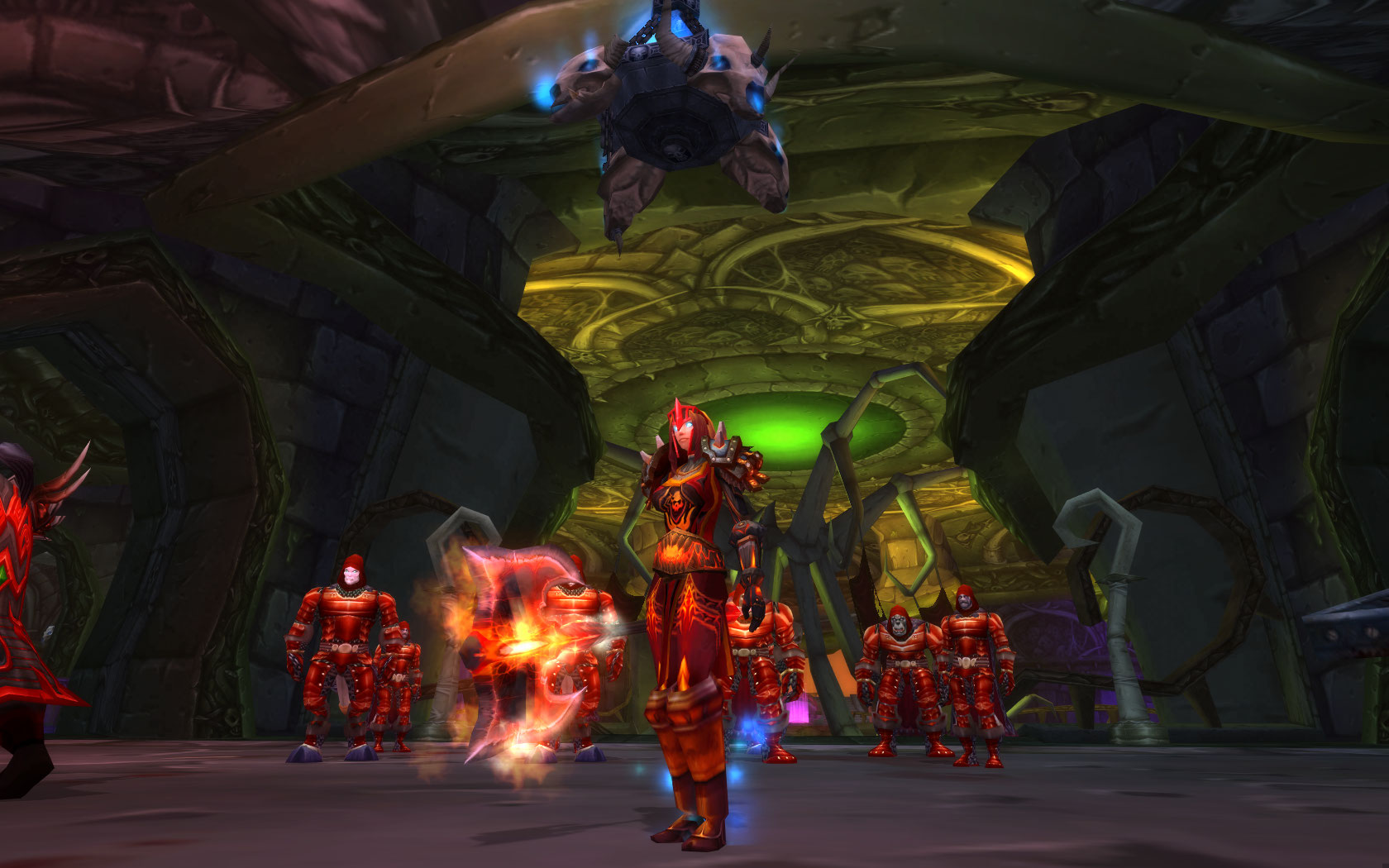 I know, first thing you notice is the lack of Ragnaros shoulders as intended. I'll explain that in the gear info
I feel the end result of this set was pretty successful. I am also very proud of it as 8 weeks of grinding went into this. I also find it is very unique within Stormwind as I look at other people's mog sets.
Most Death Knight's have a set based around the current content gear or the DK starter set, so I feel this is closer to a paladin look, altough they tend to go for the current or judgement sets, again making mine feel more unique.
I had alot of trouble picking a weapon for this. I was going to use an axe called "The Burning Crusader" which was a twisted looking axe coloured like the Ashes of Al'ar. I had this axe mogged right up until today when I had a browse through some more weapons. I feel that the level 70 PvP axe works very well with the set and the fire effect it has creates a sort of fiery aura over the whole set.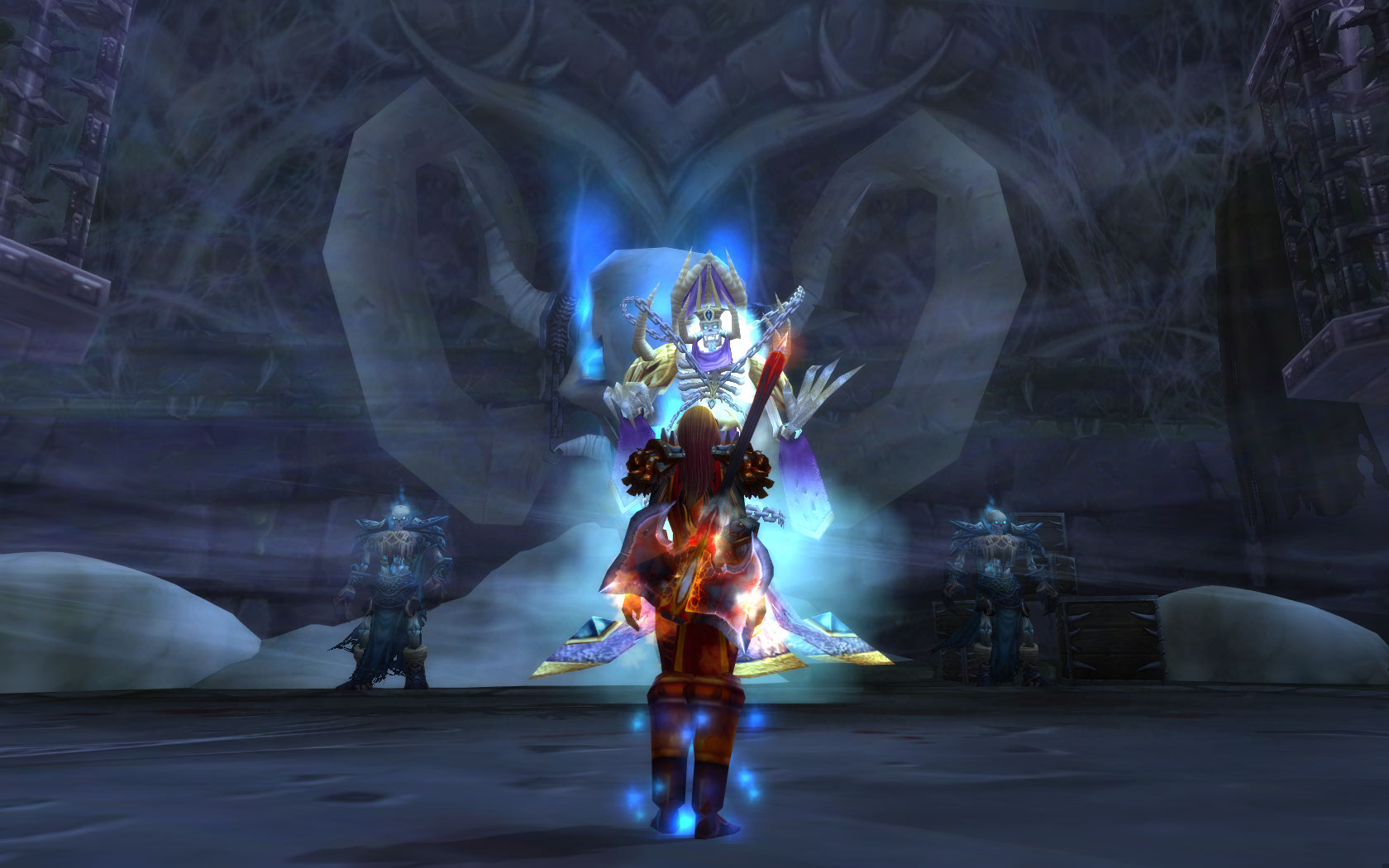 The Gear
Head
When i started looking for the set, my character was a female Night Elf. The set looked odd and stretched out, which I didn't like, so I had a race change to human male. On the male and I thought this set looked a bit weird again as some of the items looked a bit feminine, so I had a paid character change to female. £21.50 used already and I was just beginning! I wanted something that showed the hair, so more of a mask rather than a helmet. I couldn't find any bandit style masks for plate wearers but instead found this TBC faceguard which worked well.
http://www.wowhead.com/item=32083
Shoulders
The shoulders were, by far, the hardest piece to get for my set. Every week since the beginning of the competition, I tried to get a Firelands run going to get these shoulders. The first week I did it, the shoulders were dropped, but unfortunately I was in a group full of people from Alternate Reality, so the shoulders were inevitably ninjad without me getting a chance to roll. 8 weeks of finding groups, and failing or having no luck with drops, they didn't drop, so on the last week of raids before this competition ended, I started looking at any alternatives I could find. By Saturday I had done nearly every single raid in the game trying to get specific shoulders but had absolutely no luck. Then I had a look at Item Restoration, WoW's new feature. I browsed through the armour there and found shoulders that I had vendored from Forge of Souls a couple of months ago. They seem adequite for the set for now, altough I will continue farming the Rag shoulders after the comp is finished as my set isn't really done until I get them.
http://www.wowhead.com/item=50208
and here is the intended shoulders.
http://www.wowhead.com/item=70921
Chest, Belt & Hands
These 3 items were the Tier 11 HC items that I managed to obtain. I also had the legs but they were more black than orange, so it didn't really fit. I was proud to get these as It meant getting part of the items I had once desired but felt impossible to get. They are spot on for the look I was going for, so happy with these. They took a while to get as trying to get pugs to run BWD (succesfully) is quite a challenge. I had help from both Flo and Wind in some of these runs, so thanks for that. Took 4 resets to get 4 items so not too bad.
http://www.wowhead.com/item=65062
http://www.wowhead.com/item=65180
http://www.wowhead.com/item=65040
Tabard
I originally had Tabard of the Achiever equipped but as I gathered more and more parts of my set, I felt the white area of the tabard killed the set a little. I had a look on Atlasloot at possible tabards and the only one that appealed to me, and really appealed, was the Tabard of Flame. This is a TCG item so one ebay browse and £15 later, I had the tabard. - £36.50 down now
http://www.wowhead.com/item=23705
Legs
After the t11 HC legs failing to impress me, I looked for alternatives. The t12 normal DK legs were an improvement so I used them for a while. I then found legs in Blackrock Mountain while levelling my Druid and instantly went back and farmed them. 16 resets later, (despite having a high drop rate) I had them.
http://www.wowhead.com/item=11802
Boots
These were another disappointment, like the shoulders, up until the last week. I was going for the t11 HC boots which have a very low drop rate on Magmaw HC. They didn't drop for 8 weeks. Last minute I found boots which matched the legs pretty well, so not too much of a loss there. Think they look alright, altough I will still continue to farm Magmaw.
http://www.wowhead.com/item=13381
Weapon
As previously explained, I had the 2 handed axe, "The Burning Crusader" for ages. Here is the link to it.
http://www.wowhead.com/item=30009
It does look cool on it's own, but doesn't quite fit the set unfortunately. The axe I eventually went for fits better so I'm happy with that.
http://www.wowhead.com/item=28298